Wits University at 100
From Excavation to Innovation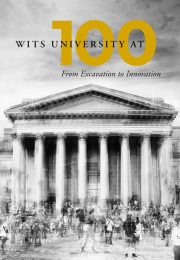 Publication Date: September 2022
Dimensions and Pages: 254 x 203mm Extent: 234pp
Paperback EAN: 978-1-77614-735-9
eBook EAN: 978-1-77614-738-0
PDF EAN: 978-1-77614-737-3
Rights: World
Recommended Price (ZAR):

375

Recommended Price (USD):

40
Wits University celebrates 100 years of academic and research excellence, innovation,
and social justice in 2022. The origins of Wits lie in the South African School of Mines,
which was established in Kimberley in 1896 and transferred to Johannesburg as the
Transvaal Technical Institute in 1904, becoming the Transvaal University College in 1906
and renamed the South African School of Mines and Technology four years later. Full
university status was granted in 1922, incorporating the College as the University of the
Witwatersrand. Professor Jan H. Hofmeyr was its first Principal.
The University of the Witwatersrand occupies a special place in the hearts and
minds of South Africans. Its history is inextricably linked with the development of
Johannesburg, with mining and economic development, and with political and social
activism across the country.
Wits University at 100: From Excavation to Innovation captures important moments of
Wits' story in celebration of the university's centenary in 2022. It explores Wits' origins,
the space and place that it occupies in society, and its transformation as it prepares
the ground for the next century. From its humble beginnings as a mining college in
Johannesburg to its current position as a flourishing and inclusive university, Wits
University at 100 is a story of innovation driven from the global South.
In text and image, Wits is presented as a dynamic institution that thrives because
of its people, many of whom, in one way or another, have shifted the world. The
experiences, achievements and insights of past and present 'Witsies' come alive in this
glossy, full-colour book that maps the university's vision for the future.
Foreword
Introduction: Looking Back, Moving Forward
CHAPTER 1: ORIGINS
The Last Word: Benedict Vilakazi
Wits Pioneer: Johnny Clegg
Dynamite Underground: Wits Geosciences
Fighting the Good Fight
Wits Pioneer: Stephen Matseoane
Life as We Know It: The Story of Life
Wits Pioneer: Advocate Thuli Madonsela
CHAPTER 2: SPACE AND PLACE
Behind the Scenes of #FeesMustFall
Activists, Scientists and a Lifetime of Service:
Maurice Smithers
Wits Rural Campus: The Hidden Gem
Knowing Your Place
Activists, Scientists and a Lifetime of Service:
Patrick Soon-Shiong and Michele B. Chan
Leading the Charge
Activists, Scientists and a Lifetime of Service:
Bhekokuzakuye 'Keith' Mdlalose
CHAPTER 3: THE FUTURE
Light Years Ahead: Invention, Innovation and the
Structured Light Lab
Minding the Matter
Wits Futurists Lead the Way: Achille Mbembe
Fringe of the Future
Wits Futurists Lead the Way: Marcus Byrne
African Art Beat: Wits Art Museum
I Have a Dream …
CHAPTER 4: THE NEXT CENTURY BEGINS NOW
Afterword
Timeline
Notes
Interviewees
Bibliography and Source Material
Acknowledgements
Index
Related titles